Harley Earl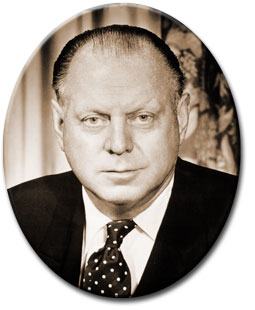 Harley Earl was born November 22, 1893 in California to well-established parents. His father, J.W. Earl was a coach builder in California beginning in 1889. J.W. Earl kept up with technology and later changed the name of his shop to Earl Automotive Works. Earl's mother was originally from California and was the daughter of a civil dignitary.
Earl's stature matched his personality. He was a large man and was described as an intimidating person. It has been said if he smiled at you, it made your day, and if he was yelling it made you tremble. Those who worked with Earl say he was an impeccable dresser. His suits were always clean and pressed and he kept duplicate wardrobes in his office closet in case he were to wrinkle during the day he could always change before cocktails.
Earl had originally began his studies at Stanford University, however Earl decided to leave the university and study design with his father at Earl Automotive Works. Earl Automotive Works was a custom design shop which could boast of the biggest movie stars of the 1920s. By the age of 30 Harley Earl was able to boast of wining and dining with the biggest celebrities of the time. Cecil B. De Mille, a director who owned two Locomobiles, a Lincoln limousine, a touring Cunningham, a Cord roadster and a Model A, just to name a few believed the success of movies and automobiles went hand in hand. De Mille said the success of movies and automobiles reflected "the heart of motion and speed, the restless urge toward improvement and expansion, the kinetic energy of a young, vigorous nation." While only the rich could afford custom cars, Earl boasted of designing a $28,000 car for Roscoe "Fatty" Arbunkle. And western star Tom Mix had a custom Earl design car complete with a real leather saddle on the roof and painted stars with the TM logotype all over the vehicle.
When Earl Automotive Works was sold to Cadillac's west coast distributor Don Lee, Harley Earl was hired in 1927 to supervise the newly created Art and Colour Section at General Motors.
The creation of the Art and Colour Section was the first department of its kind in the automotive world. GM President Alfred Sloan had wanted to establish style and colors of cars which were mass produced. The new Art and Colour Section initially was only concerned with recognized style and color. Sloan wanted a varied models of cars to not only "attract the affluent and style conscious consumer of the twenties but also to make a change in a routine part of his corporate procedures." Sloan knew design alone could not lure consumers to purchasing a car, so at the same time, he marketed his cars buy letting consumers buy using an installment plan or used-car trade ins. With products based on price, model and style, Sloan came up with "a car for every price and purpose."
Earl took nearly 10 years establishing the outlines of an automobile designer. In 1937, Earl changed his Art and Colour Section name to Style Section, reflecting the new general focus on design--including creating and modeling. One of the ways Earl helped innovate models and creations was by introducing two types of design methods. One was a two dimensional rough sketch which consisted of line drawings and the other was three dimensional clay models which were presented to management as realistic mock-ups. Earl helped formalize and lay down the rules which still guide car design today. When Earl retired from GM in 1959, he left behind him a design legacy using classic chrome, two tone paint, tail fins, hardtops and wrap around windshields. Earl founded the GM Design and Styling Department in 1927 and by the time he retired in 1958, it had grown from a staff of 50 to 1,100.
As car companies spend millions of dollars each year advertising new car models, consumers rarely question who designs the cars that appeal to our individual style. While the style of a car may be just as important to us as how the car runs, automobile manufacturers did not begin to pay attention to car designs until the 1920s. It was not until 1927, when General Motors decided to hire designer Harley Earl to displace Ford Motors prominence in the automotive world that design became important. What Henry Ford did for the automobile is what Harley Earl did for car design. Harley Earl loved Sports Cars, and returning GI's after World War II were bring home MGs , Jaguars, and he like.. Earl convinced GM that they needed to build a sports car. The result was the
1953 Corvette!
Zora Arkus Dontov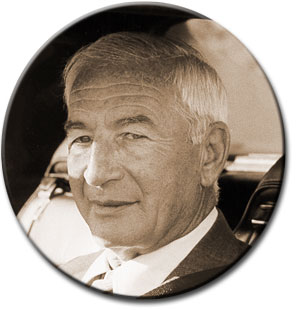 Zora was born Zachary Arkus in Belgium on Christmas Day, 1909. His father was a Russian born mining engineer, and his mother, also Russian, was a medical student in Brussels. After the family returned to their hometown of Leningrad, Zora's parents divorced. His mother new partner, Josef Duntov, another mining engineer, had move into the household. But even after the divorce, Zora's father continued to live with the family. And out of respect for both men, Zora and brother Yura took on the last name of Arkus-Duntov.
In 1927, his family moved to Berlin. While his early boyhood ambition was to become a streetcar driver, streetcars later gave way to motorcycles and cars. His firs motorized vehicle was a 350cc motorcycle, which he rode at nearby racetracks as well as through the streets of Berlin. When his parents, fearing for his safety, insisted he trade the cycle in for an automobile, Zora complied…. He bought a racecar. The car was a cycle fendered contraption called a "Bob", form a short-lived manufacturer of the same name. The Bob was set up for oval track racing. It had no front brakes and very little at the rear.
In 1934, Zora graduated form the Institute of Charlottenburg. He also began writing engineering papers in the German motor publication Auto Motor und Sport. Later in Paris, he would meet Elfi Wolff, a German native who danced with the Folies-Begère. In 1939, they married just as Zora and his brother joined the French Air Force. When France surrendered, Zora ingeniously obtained exit visas from the Spanish consulate in Marseilles, not only for Elfi and himself, but for his brother and parents as well. Elfi, who was still living in Paris at the time, made a dramatic dash to Bordeaux in hr MG just ahead of the advancing Nazi troops. In the meantime, Zora and Yura hid inside a bordello. Five days later, Elfi met up with Zora and his family and later they boarded a ship out of Portugal Bound for New York.
Settled in Manhattan, the two brothers set up Ardun (derived from Arkus and Duntov) which supplied parts to the military and also manufactured aluminum heads for the flathead Ford V8 engine. The overhead valve design enabled a dry lake of oval racer to squeeze 300 plus hp out of the Ford V8. Ardun grew into a 300 employee engineering company with a name as revered as Offenhauser, but the company later went out of business after some questionable financial by a partner that Zora and Yura had taken on. Later, Zora left America for England to do development work on the Allard sports car, co-driving it at Le Mans in 1952 and in 1953. He also won class victories at Le Mans in 1954 and 1955 while driving an 1100cc Porsche Spyder.
Zora joined General Motors in 1953 after seeing the Motorama Corvette on display in New York. Perhaps it was just fate that Zora happened to be among the thousands of people who attended the GM event. Zora found the car to be visually superb, but was disappointed with what was underneath. He wrote Chevrolet chief engineer Ed Cole that it would be his complement to work on such a beautiful car, he also included a technical paper which proposed an analytical method of determining a car's top speed. Chevrolet was so impressed that engineer Maurice Olley invited him to come to Detroit. On May 1, 1953, Zora Arkus-Duntov started at Chevrolet as an assistant staff engineer.
Shortly after going to work for Chevrolet, Zora set the tone for what he was about to accomplish in a memo to his bosses. The document, entitled, "Thoughts Pertaining to Youth, Hot Rodders and Chevrolet", laid the foundation for the strategy that Chevrolet has used since to create one of the most successful performance parts programs in the industry. As well as to become on of the winningest manufacturers ever in the history of motor racing. Soon, Zora became director of high performance at Chevrolet and set about transforming GM's largest division from a conservative company into a youthful, exciting one. In the process, he would change the Corvette from a docile roadster into a full-blown sports car that measured up on and off the racetrack against the likes of Porsche, Ferrari, Maserati, and Mercedes. As was his way, Zora led by example. After helping to introduce the small-block V8 engine to the Corvette in 1955, providing the car with the much needed grunt, he set about showcasing the engine by charging up treacherous Pikes Peak in 1956 in a pre-production prototype Chevy and setting a stock car record. Not satisfied, he took a Corvette to Daytona Beach the same year and hit a record setting 150 MPH over the flying mile. In his spare time, the brilliant and vocal GM driver/engineer also developed the famous Duntov high-lift camshaft and helped bring fuel injection to the Corvette in 1957.
In 1963, Zora launched the Grand Sport program. The original idea captured the interest and imagination of Corvette fans all over the world. The idea was to create a special lightweight Corvette weighing only 1,800 pounds and race it on an international circuit against not only Cobras and other GT-Class cars, but also racing only prototypes from Ferrari, Ford and Porsche. Power for the Grand Sport was to come from an aluminum version of the small block V8, equipped with special twin-plug cylinder heads. At 377ci, output was a projected 550hp at 6,400 RPM. But as it had so often, GM policy prohibited Zora from going racing, but not before five Grand Sports were built. The five Grand Sports eventually fell into the hands of private owners, and Zora somehow found a way to support them in spite of the official ban.
Zora retired in 1975, turning the reins over to Dave McLellan. At 81 years of age, Zora Arkus-Duntov was still passionate and opinionated about his car, the Corvette. It was during the time between Zora's retirement and his death that his legend grew. When ever anything Corvette happened, Zora was there. A member of the Drag Racing Hall of Fame, the Chevrolet Legends of Performance, and the Automotive Hall of Fame, Zora took part in the rollout of the 1 Millionth Corvette at Bowling Green in 1992. He also drove the bulldozer at the ground breaking ceremonies for the National Corvette Museum in 1994. Six week before his death, Zora was guest speaker at "Corvette: A Celebration of an American Dream", an evening held at the showrooms of Jack Cauley Chevrolet Detroit. On had that night were Dave McLellen and the Current Corvette chief engineer Dave Hill, but no one could argue that Zora stole the show.
Larry Shinoda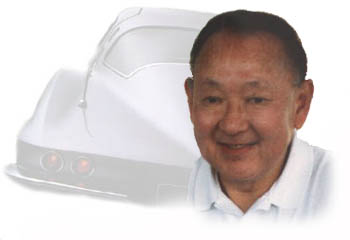 As a boy in California during World War II, Larry Shinoda was held in an internment camp for Japanese Americans. As a young man, he built hot rods and drag-raced them on the streets of Los Angeles. And as an adult, he designed the 1963 Corvette Stingray, widely considered one of the most beautiful and quintessentially American cars to roll off Detroit's assembly lines. -Suzanne Siegel
The Corvette Sting Ray, the Z-28 Camaro, and the BOSS 302 Mustang were all designed by Larry Shinoda. Larry, a Los Angles, California native, went to work for Ford Motor Company in 1955 after being kicked out of the Art Center College of Design in Los Angles for being in Larry's words "a malcontent". He stayed at Ford for one year, then moved to Packard in January of 1956. During his time with Packard, things were slow and the company was in financial trouble. Larry took a leave from the company and went to Indianapolis and worked on the car that won the Indy 500 that year driven by Pat Flaherty, a Watson built car, but styled by Larry. In September of 1956, Larry Shinoda went to work for General Motors. Larry worked a little on the SS racer, mostly details, but when Bill Mitchell purchased the SS mule chassis from GM, Larry went to work in Mitchell's basement, refining the design of the clay model into what would become the 1959 Sting Ray sports racer. Because GM had banned racing, the Sting Ray did not say Corvette anywhere on the vehicle. Larry was mechanic, pit crew, designer and what ever else was required on the car. Dr. Dick Thompson drove the Sting Ray racer. The Sting Ray Racer was the foundation for the 1963 Shinoda designed Corvette Sting Ray.
The Sting Ray was designed as a roadster. Later, when development began on the 1963 Corvette the Split Window was designed into the coupe. Bill Mitchell had adopted the Corvette as his own, and the ' 63 Sting Ray was his special project. Zora-Arkus Duntov had by that time established a free hand with Corvette mechanical design and power. With the combination of Mitchell, Duntov, and Shinoda, the Corvette Sting Ray 1963 to 1967 is thought by many to be the best of the Corvettes and the most desirable. Larry's involvement was to take the Sting Ray racing car, and turn it into a production car... not an easy task. Larry was for the most part the only designer in the studio. The famous "Studio X". (Studio X was located underneath the front lobby, it was a small area but with big doors to move cars and clay models in and out. A highly secret area.)
The first model Sting Ray production car was completed in fiberglass for the board of directors meeting it had the "Split Window" the split was a little narrower than on the actual production car, but there was a hatch and the whole back end opened up. The scoops that finally ended up in the front fender, were in front of the rear fenders.
The 1963 Corvette had a style that no other car had, excitement, edges, and shaped. It was a distinctly American Car in contrast to the great European cars of the time. In 1963, for the first time in it's history, Chevrolet would build over 20,000 Corvettes growing to over 27,000 in 1966. Corvette way toying with the idea of making a Corvette 10 inches longer with a back seat. Jack Gordon who was president got into the backseat of a prototype, the seat would not release when he went to get out.. they had to remove the front seat to get him out and that ended the idea of a back seat in the mid-year Corvette.
In poor health, Larry Shinoda remained active to the end. He designed the handsome "Shinoda Kit" for the C4 Corvette, was working on producing a limited run of Shinoda designed C5 Corvettes, and working with Cragar wheels on a 17", 18" and 20" Shinoda Design series. One of his last projects was the graphic design for the Mid-America traveling Corvette exhibit.
After suffering kidney failure, Larry died November 13, 1997 of a heart attack.
Dave McLellan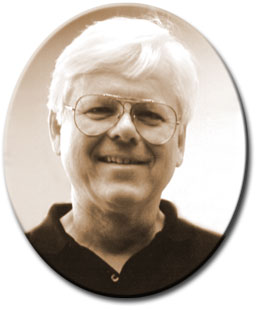 When Zora Arkus-Duntov retired as Corvette chief engineer in 1975, David R. McLellan was offered the job. He'd have been excused had he said "Thanks, but no thanks." Zora's elegant imprint was on every Corvette since 1955. Dave worked with the master. He knew Duntov would be a tough act to follow. He also knew GM's enormous effort in the 70s to meet ever more stringent emissions, safety and fuel economy bogies could bring the Corvette to its knees. Almost 25 years later, the Corvette's world-class stature speaks volumes about the vision and quiet leadership Dave brought to a perilous program in the mid-70s.
Born in Munising, Michigan, and a graduate of Wayne State University, he started at GM July 1, 1959. He was assigned to the Milford Proving Grounds.
In 1975, he succeeded Duntov as only the second chief engineer in Corvette history. He inherited a beast of a car -- overweight, throttled by emissions hardware -- which would get worse before it got better. For awhile in the late '70s and early '80s, Corvette performance was an oxymoron. But Dave's low-key, laid-back style hid an intense bull-dog determination to find within the maze of regulation a path to greater glory for the Corvette. He outdid himself. The all-new 1984 car was state-of-the art in aerodynamics, emissions control, weight savings, electronics. Almost a decade after assuming the mantel, Dave had the Corvette headed back to the heights.
Taking a page out of Zora's book, he began helping Corvette road racers fashion winning programs. To him, the race track was an extension of the proving grounds. With lieutenants like Doug Robinson, John Heinricy, Jim Minneker and Scott Allmon on the front lines, Dave directed a Corvette endurance racing juggernaut so powerful that it was finally dismissed from SCCA competition. In the hands of racing legends like Kim Baker, Tommy Morrison, Dick Guldstrand, Doug Rippie and John Powell, Corvettes won 19 of 19 SCCA endurance races in '85, '86 and '87.
Not to be deterred, Dave and Chevy's Frank Ellis worked with Powell to launch the million-dollar Corvette Challenge series in '88. A fabulous showcase for Corvette's performance, it was also a convenient venue for final development work on McLellan's most prized baby -- the ZR-1.
Featuring Corvette's first overhead cam engine and bodywork so subtly altered it could easily be confused with the standard Vette, the ZR-1 was introduced to the world automotive press at the 1989 Geneva Auto Show. It was a stunning debut. Almost 15 years after McLellan took over an orphan car line seemingly unsuited for the modern world, the Corvette was universally acknowledged once again as King of the Hill.
On July 2,1992, a smiling McLellan stood by as the one-millionth Corvette was driven off the Bowling Green assembly line. For the quiet kid from Detroit, it was a magnificent moment. Thanks to Dave, the plastic-bodied two-seater born in secret almost 40 years earlier had endured to excite and enthuse still more generations.
Thanks also to Dave, the next generation Corvette (what has become known as the C5) had passed concept initiation before his retirement, on its way to eventual start-up as a 1997 model. In many ways, the C5 was deja vu for McLellan. If external forces almost derailed the Corvette in the '70s, internal forces made development of the C5 a tumultuous exercise. Awash in red ink, GM second-guessed itself routinely in the late '80s. As always, the Corvette was a prime cost containment target. The C5 program would emerge as the best Vette yet.
Known as an advocate for pushing the envelope, Dave McLellan wanted to make the Corvette the best possible statement for American technology. Beyond the shadow of doubt, he accomplished such. And one of the major reasons: Dave McLellan. Innovator, educator, Corvette legend, the quiet genius.
Dave Hill
David Hill has often been seen at the annual Corvette Hall of Fame banquet, program in hand, requesting autographs of the inductees.
Hill's contributions to the Corvette are so well recognized that his Hall of Fame nomination was almost simultaneous with his retirement announcement. Corvette's third chief engineer, Hill took over development of the C5 from Dave McLellan and saw it through to completion during some of GM's darkest days when the very survival of the car was in doubt.
"The C5 upgraded all the things Corvettes were good at and fixed all the things they were lousy at," says Hill, and the automotive world agreed. That success was followed by the resurrection of a legendary RPO, the Z06 Corvette, and then Hill's crowning achievements, the C6 and C6 Z06, a direct result of Hill's collaborative approach with Corvette Racing.
Hill's work ethic and insistence on perfection made his team and his car a world beater; his keen understanding of the need for profitability raised the Corvette to a level of success and status within GM that it has never known before. Maybe posterity will agree with Joe Spielman's assessment that, "Corvette is here today because of Dave Hill."